Top 5 LED Floor Lamps Reviews in 2022-Sunmory
TOP 5 LED FLOOR LAMPS REVIEWS IN 2022
SUNMORY
Like our brand concept "light the world and warm your heart", we will offer you high-quality products and good customer service.
20% discount for new customers
What's good
about LED floor lamps?
Bringing for you the best
Once you bring them to your home. It won't take you more than 15 minutes to put them together.
We use solid metal construction and a heavy base, which are perfect as the lamp stands strong and steady. With such firmness, you don't need to worry about any naughty boy and active dog breaking the lamps.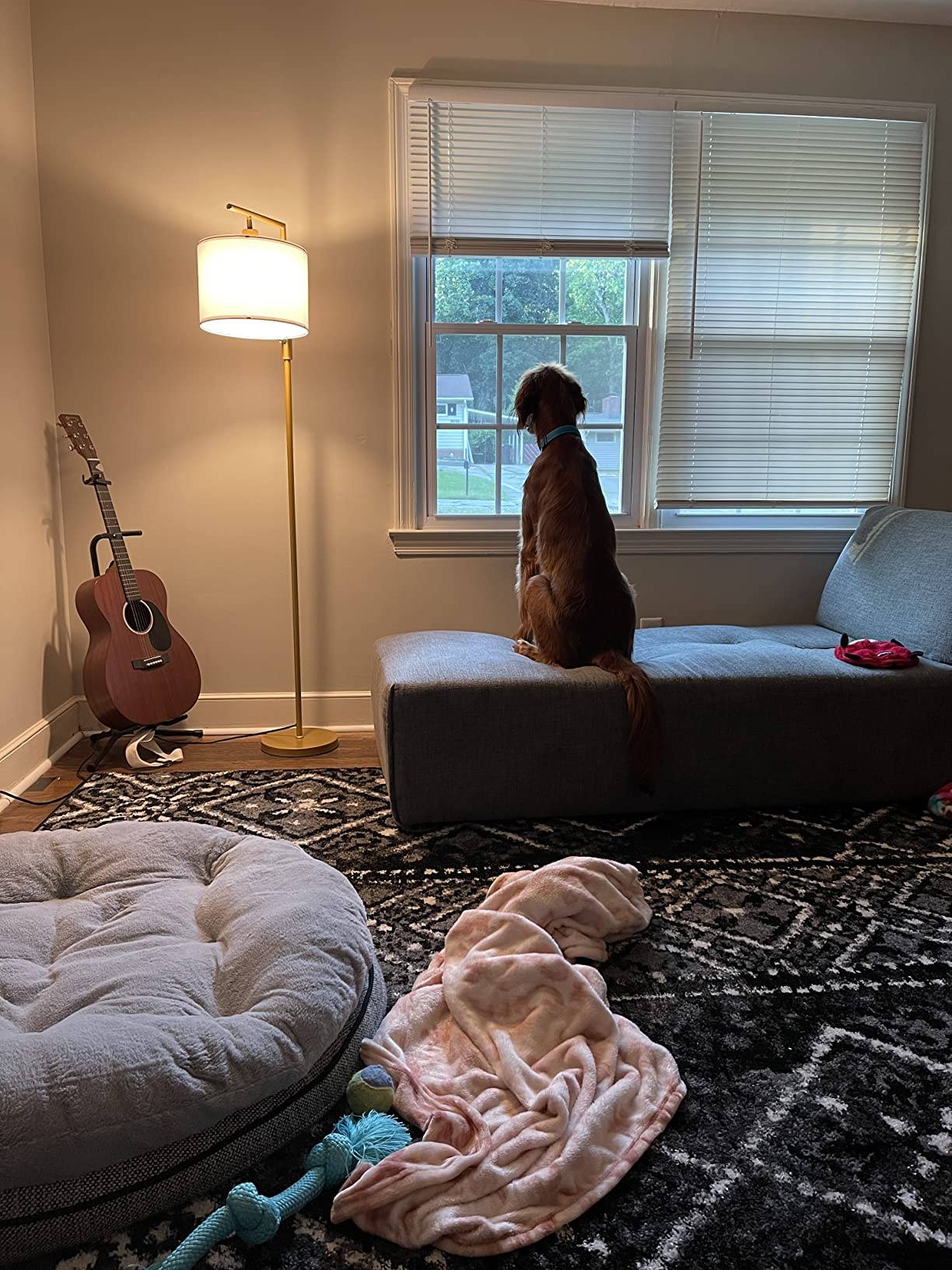 They have several light modes, you need to pull the chain or use the foot-operated switch to change color/brightness. What's more, many customers like our shelf floor lamps because of the shelf function, and they can still use the space other than for a "lamp spot".
Like our brand concept "light the world and warm your heart", we will offer you the same customer service. If you have any problem after buying our products, you can contact our online customer service center or e-mail us directly.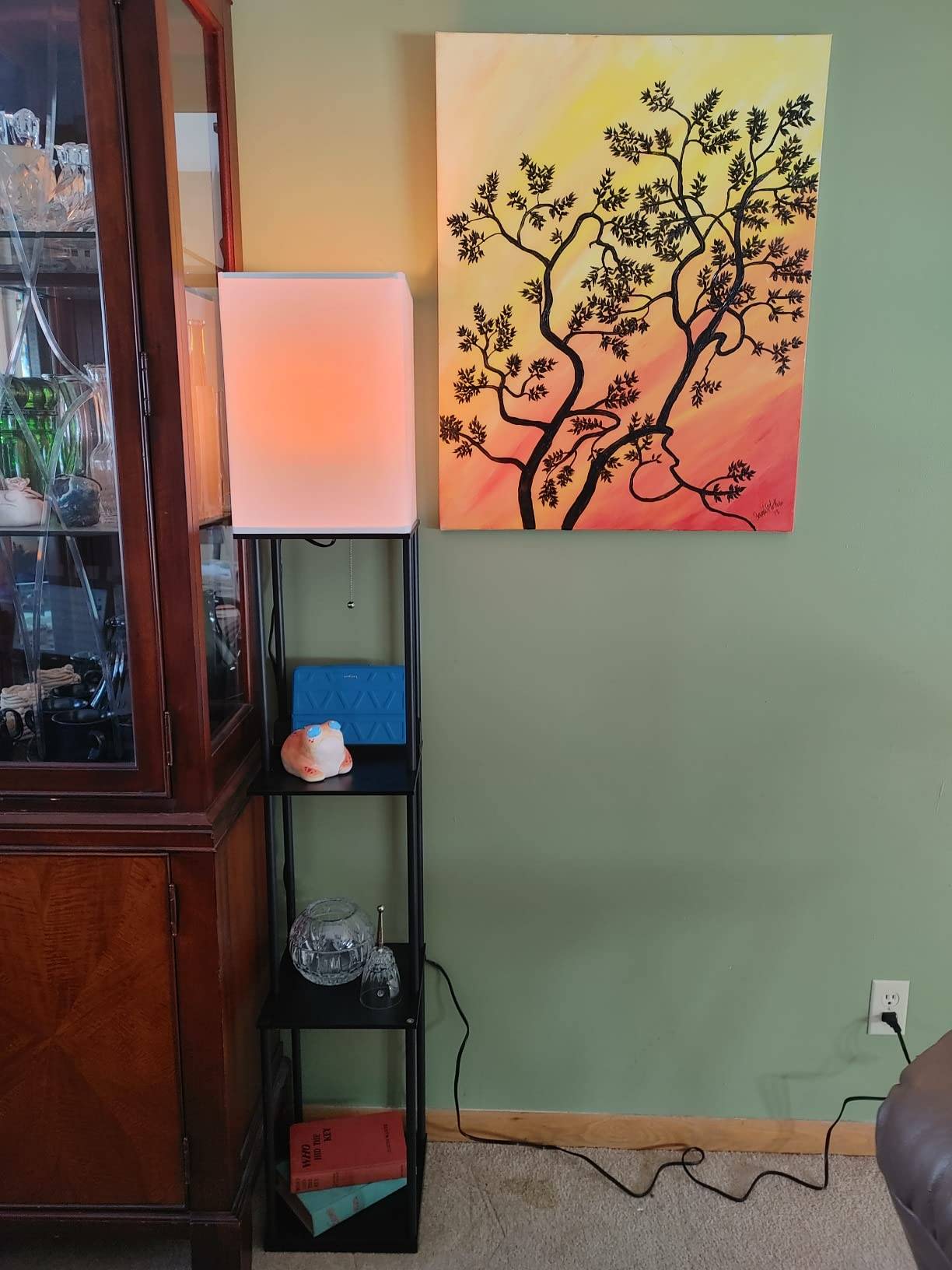 This is a very attractive lamp. It's super easy to put together. My 16-year-old daughter assembled this for me and she didn't have any problems. It's very sturdy and sits level even on carpet and rugs. The lightbulb that comes with it is really great. One of my kids loves warm light and the other likes daylight light bulbs and this gives both options, plus a nice middle ground. I am so pleased with this lamp that we are buying another for their room. I highly recommend this. Especially at such a low price point.
I needed to find 3 lamps for my living room that would sit in corners but not take up too much space – while also being multi-functional. This lamp was perfect. I like the shelf function, so I can still use the space other than for a "lamp spot". I didn't want anything too ornate, just simple yet not cheap looking. One of these lamps now also holds our Xbox Series X perfectly. It blends in and looks like a speak (to anyone that doesn't game of course) I did see comments about the broken clips that hold the cord down (nice feature) – we bought 3 of these lamps and 1 of them had 3 clips break. HOWEVER – I contacted the seller and they mailed me those clips right away. No product is perfect, so it comes down to the seller. This seller (TSI Direct) was wonderful! Leona was very helpful and nice. I recommend that if you get the lamp and you have an issue, shoot them a message! I love the lamps and plan to get two more for our bedroom. Yes – they have three light modes, you have to pull the chain to change color/brightness.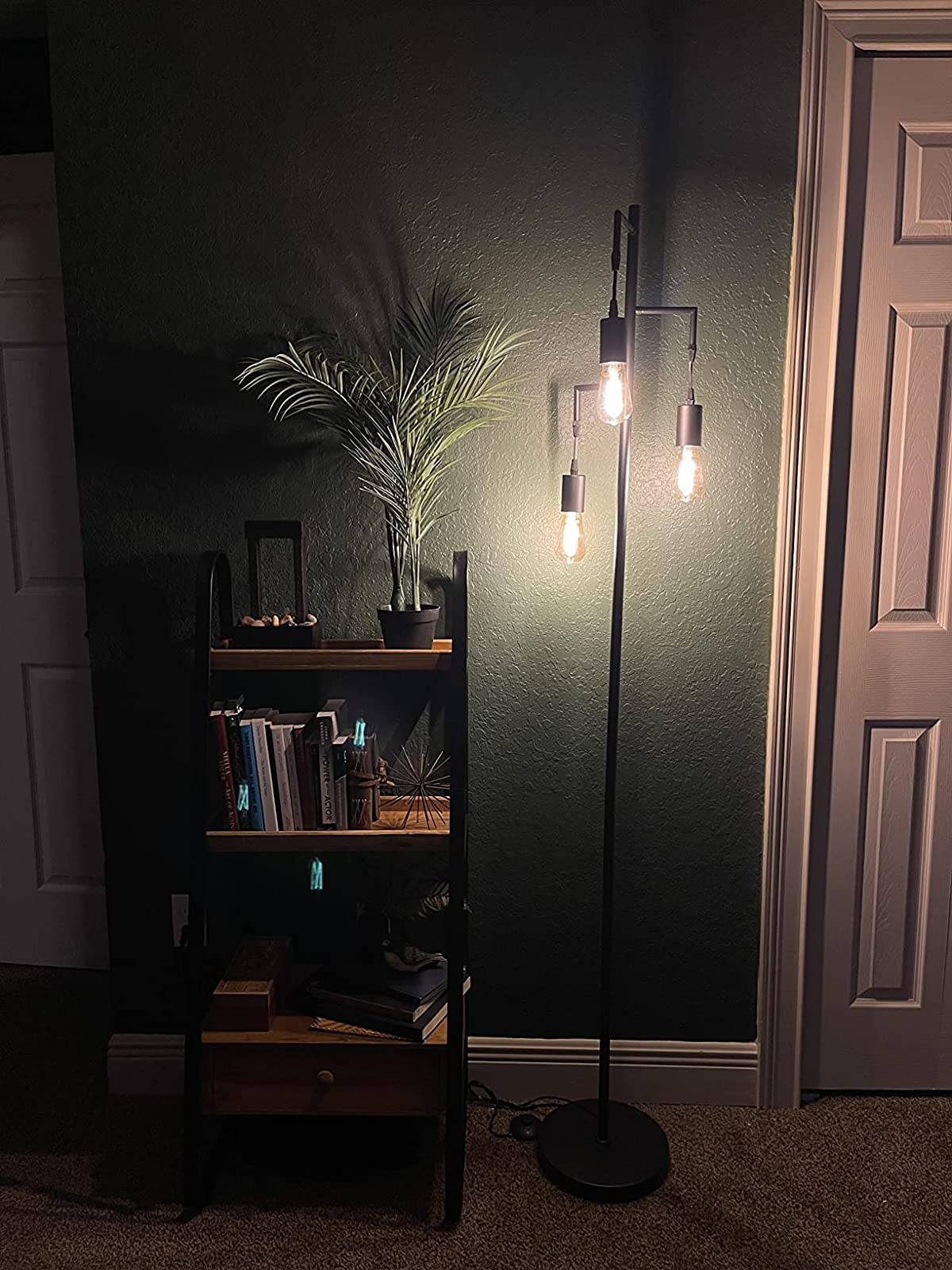 I needed a lamp for my shop, and I wanted it to have an industrial look as it would fit nicely in the Mill building I work in. There are a lot of options but I'm very glad I chose this lamp. It was super easy to put together, I mean it's already together, all I had to do was stand it up and twist each joint together it was done in just a couple of minutes. The solid metal construction and heavy base are perfect as the lamp stands strong and steady. I especially like the foot-operated switch, simple to activate hands-free and can be a lifesaver in a lot of situations, especially in my shop. The Edison-style bulbs are glass and very stylish, but are powered by LED which promises long life but also means they don't get hot, which is nice. If you wanted to put different bulbs in it, the foot switch guarantees no painful surprises groping around for a switch on the pole. It's got all the safety you could ask for! The only thing it's lacking is a dimmer switch, probably going to put it on a smart outlet so it'll dim just fine which is good because this is a bright light, to say the least. LEDs are generally bright and these bulbs are no slouch. If I was going to use this at home, I'd definitely need either different bulbs or a dimmer switch as I tend to prefer softer light at home. But this is perfect for my shop which was a bit gloomy before... This lamp is sure to chase away the shadows!
We bought this lamp in July for a new room we added and absolutely love it! When we moved the lamp to a different area it was wonderful. After an electrical problem (in the house) the remote control would not work. We emailed the company. They got back to us in a day, and told us what was wrong and how to fix it! A 3-minute fix costing nothing and our light is back. This is what a company should be! They are great and so is the light.
Once I got it assembled, this lamp gave me more than I expected. I really like the remote and all the options it gives me. Others have commented on the lampshade. It worked out OK. Fortunately, I took the box to the garage to open it. Flecks and chunks of foam were all over the place as the foam packing disintegrated upon opening. The lamp was packaged well and not damaged in shipping. This is a lamp whose light can be adjusted so many ways to meet varying light conditions in the room. I recommend it. And if you have trouble, I recommend calling customer service before writing a negative review.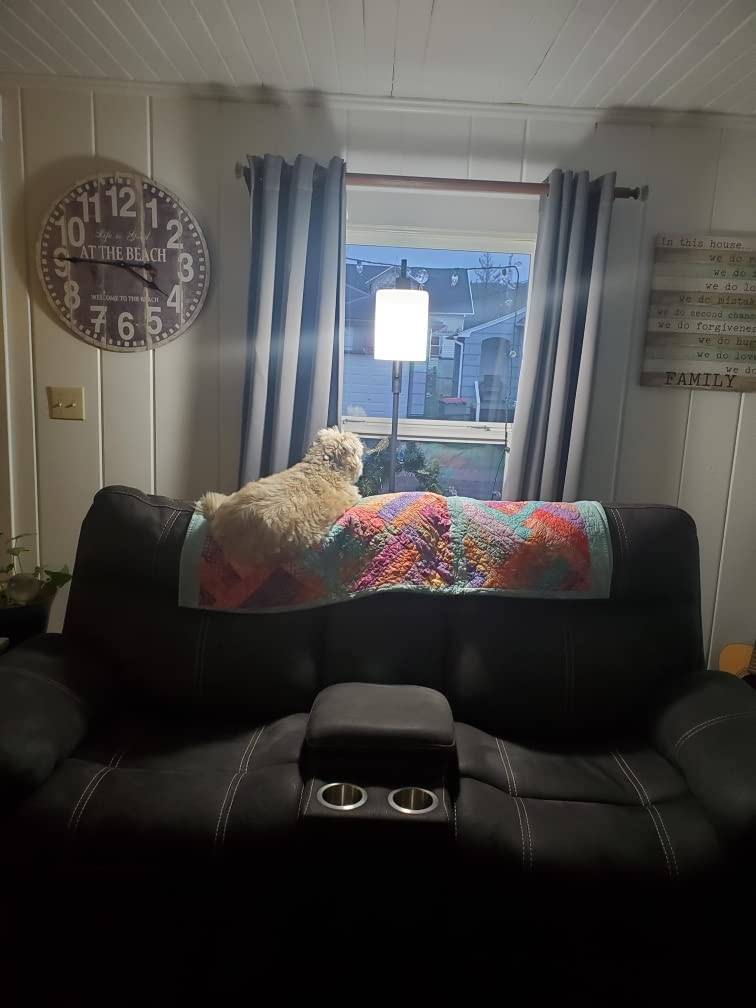 Very elegant floor lamp and easy to assemble. I got this to light my face for when I am doing video meetings so that folks I am meeting with can see me easily, and it does a fantastic job at that: very bright and yet diffuse enough that it is not painful for the eyes. The fact that it is a floor lamp really helps too: ceiling lamps are at the wrong angle to light my face well, and desk lamps are at eye level and so are hard on the eyes. The lamp also has different lighting settings (warmth), which is a nice added bonus.
I like my switches for my lamps up high as I tripped over the step switches so many times or couldn't find them in the dark. So I moved to a new place and wanted cute gold lamps. Well most had clear shades and I wanted frosted and several were rated low on sturdiness but I ran across these and took a chance and I'm glad I did. I bought one, assembled it in 10 minutes, and loved it so much that I bought a second one. They come with lights that can change between 3 natural colors which I love and don't lean too much (only slightly if you are super picky). As for sturdiness, some reviews say they are flimsy or too top-heavy but my bases were quite weighted and these bad boys aren't moving once I set them down. Now if you have pets or small kids anything is fair game and with the glass shade, you probably shouldn't get this anyways. But I love them and they are perfect for me.


Tall Pole Floor Reading Lamp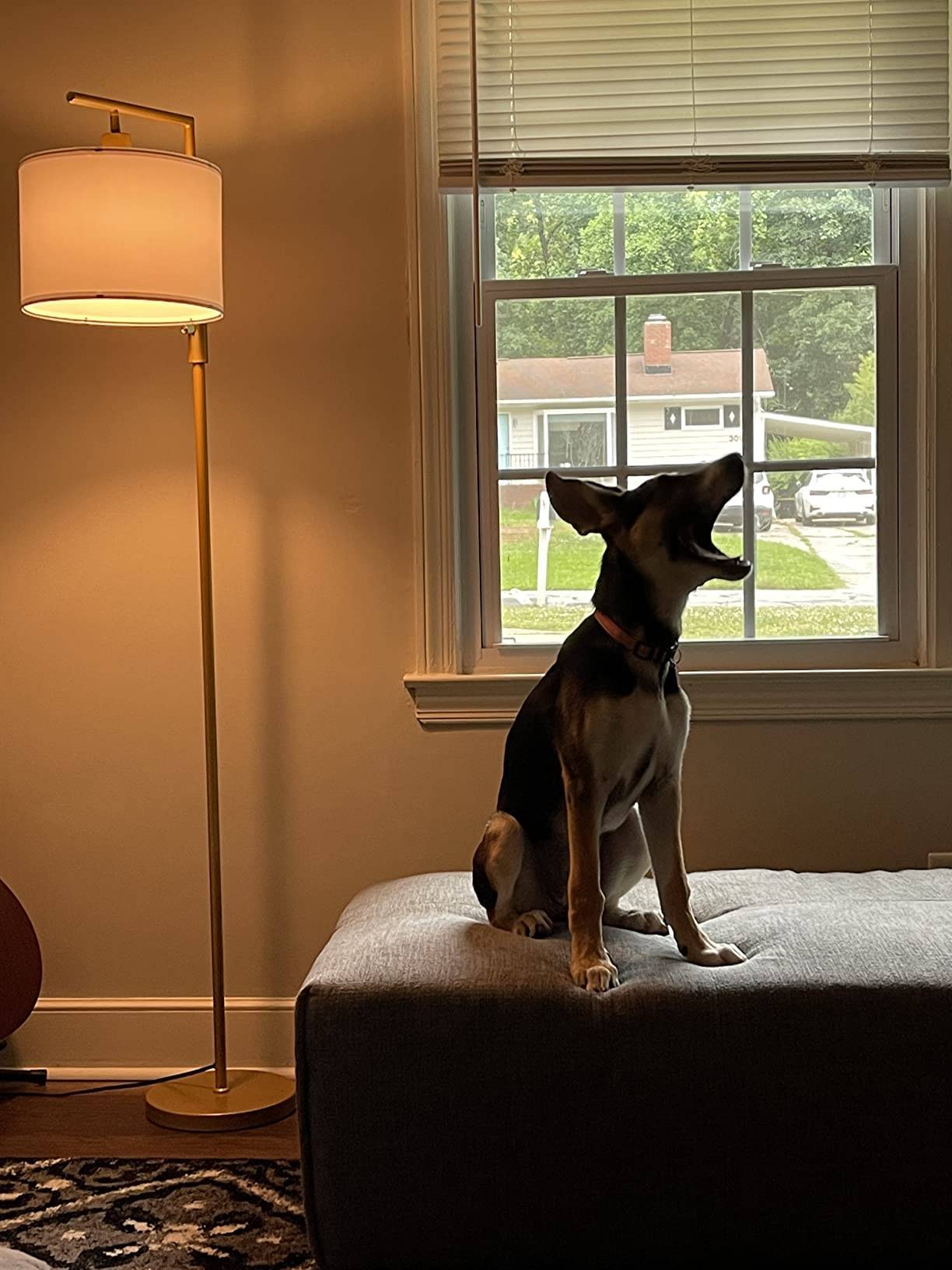 I would buy another if I needed it… easy to assemble and works great…I especially liked the location of the switch… other lamps had the switch as a foot control. I liked the fact that the switch can be operated from a seated position… works especially well for my mother… can't imagine that you would have to operate it with your foot and the switch on the floor… this product is operated from a seated position which is especially easy for an elderly person
I purchased this lamp in November of 2021 and the bulb burned out in May of 2022. I could not locate a replacement bulb anywhere for the original CCT bulb shipped with the lamp which indicated it was estimated for 3000 hours of usage. I contacted Sunmory Customer Service and received very prompt replies that they informed me the lamp was warranted for 36 months and they would send me a replacement bulb. Within 2 weeks I received a replacement bulb. The follow-up and communication from Customer Servicer (Vivian) were excellent. I like this lamp and especially the variable light options for different usage. Would buy this lamp again and recommend it to anyone.
Making changes to your choices!
Our support team
is available 24/7
Tax included. Shipping calculated at checkout.
Tunable LED light protects your eyes all day.
Distinctive styles to suit your needs.
More LED floor lamps for you
---